This article provides instructions on upgrading to Artec Studio 15 from previous versions.
The upgrade procedure is only valid for customers with active Artec Studio subscriptions.
Note: While there is no cost involved in upgrading subscription licenses, please be aware that lifetime licenses are non-upgradeable. In case you currently own a lifetime license and would like to upgrade to a newer software version, please contact your local reseller or contact sales@artec3d.com in order to purchase a new license.


UPGRADING to the new version:
Step 1: perform the upgrade at my.artec3d.com
Navigate to the my.artec3d.com website and log in with your credentials.
Click on the "Update Artec Studio" link located in the blue box at the top right of the webpage (pictured below).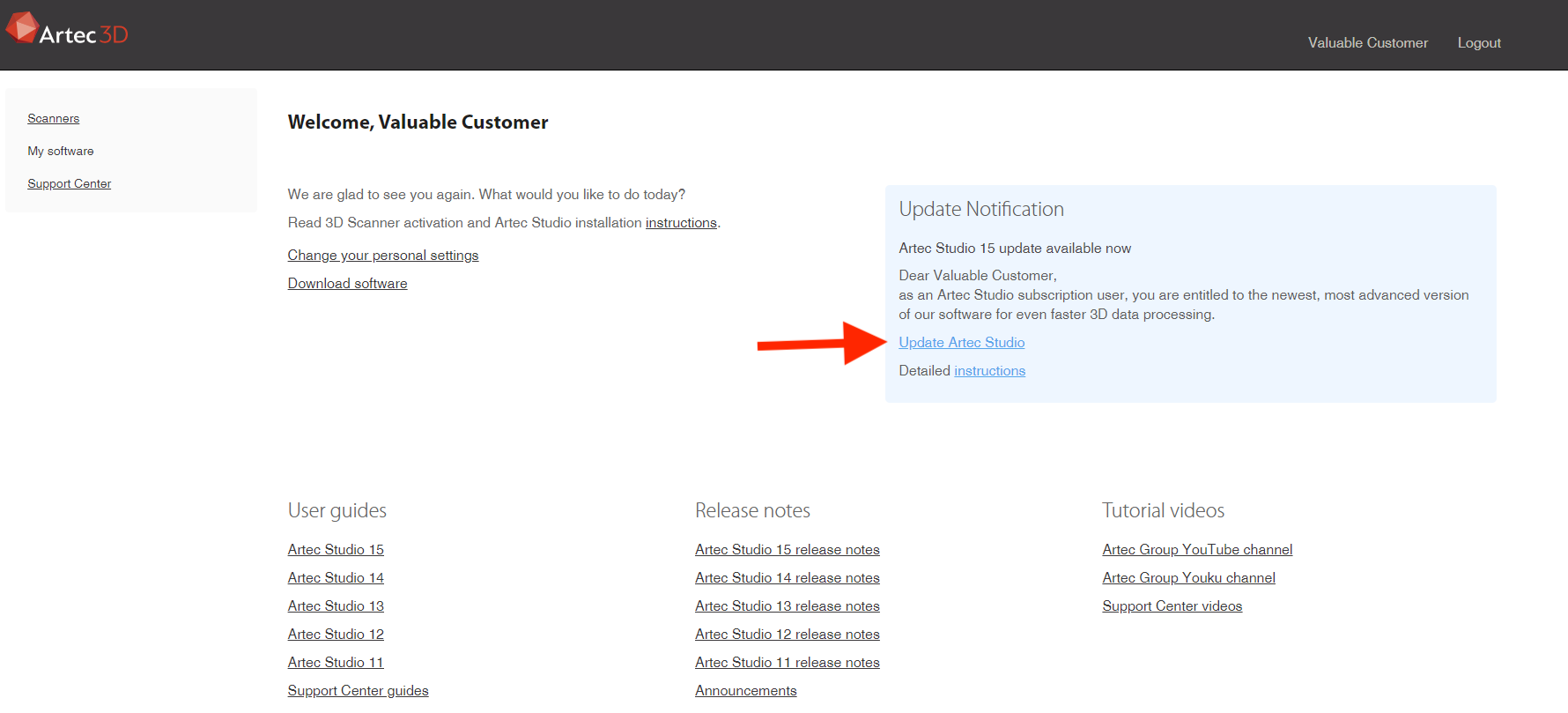 The "Applications" page will appear (pictured below), presenting you with the choice of updating individual licenses or all licenses at once.
If you need to update all your licenses, press the Update all button.
For individual licenses, press the respective update button as indicated.


Step 2: Install Artec Studio 15 on your PC
Once the license or licenses have been updated, proceed as follows:
Download the Artec Studio 15 installer file from the "My software" page at

my.artec3d.com

.
Launch the installer by double-clicking the downloaded file and proceed with the software installation by following the on-screen prompts. Towards the end of the installation, you will be prompted to activate your license.
Optional: you may uninstall previous Artec Studio installations by using the Windows Uninstall Wizard (Control Panel -> Programs and Features).
Once the installation is complete, run Artec Studio 15 and discover a wide range of great new features in action!
UPDATING to the latest build of Artec Studio 15 on a computer with an existing installation:


Option 1: update via the Artec Installation Center
Run the Artec Installation Center application (pictured below). If you have an older version of Artec Studio 15 installed, you will see an UPDATE button on the far right.
Click on the UPDATE button to initiate the download of the new version, and follow the on-screen prompts to complete the installation.

Option 2: update via the my.artec3d.com
Run Artec Studio, and in the top menu bar, go to Feeback & Help -> About and check which version of the software you are currently running (pictured below).




Compare the version number with the latest available version here.

If you do not have the latest build installed, please download it from the my.artec3d.com website (pictured below) after logging in with your credentials.

In case you experience any issues with your Artec 3D scanner or require technical assistance with your device or Artec Studio, in the first instance please contact your local Artec dealer/distributor directly. You can also contact the Artec Support Team by clicking on the "Submit a request" button at the bottom right of the screen or by emailing support@artec3d.com