General information
Autopilot is the premier feature of Artec Studio 11 / 12: an easy yet comprehensive post processing mode that guides you through all the steps and analyzes your data to build the best possible 3D model.
This article provides more information about Autopilot compatibility, use cases, and tips and tricks. Also check out a video tutorial that covers the technology's main principles.
Compatibility
Note that Autopilot can process only scans (i.e. not fusions). The table below lists both supported and unsupported device.
| | |
| --- | --- |
| Type of support | Device |
| Supported scanners | Artec Eva / Eva Lite / Spider / Space Spider |
| Supported thrid-party sensors | Intel RealSense, Microsoft Kinect, PrimeSense, Asus XTion |
| Unsupported , but functional scanners | Artec M / MH / MHT |
| Unsupported scanners | Artec S / L |
Note: Starting from version 11.2.0.162 Artec Studio supports third-party sensors.

Autopilot step-by-step workflow

Step 1: Select scans
First, Autopilot will ask you to select your data in the Workspace panel. Note that your scans should all be captured using one scanner model (i.e. you can not use scans from Eva and Spider in the same Autopilot session, though you can process them in two separate sessions).


Step 2: Answer a few simple questions
Next, the software will ask you to provide some information about the scanned object, for example, its size or surface type. All tooltips are clickable and will help you to choose the best option.
Moreover, Autopilot detects the scanner type and displays the corresponding tooltips:
Note that you may leave the model resolultion, polygon count and texture resolution options on "Auto". The main benefit is that Autopilot optimizes the post processing parameters to create the best possible 3D model.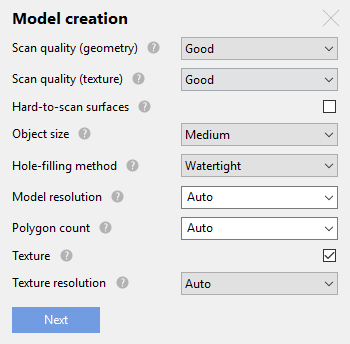 Step 3: Editing (optional)
At this point you can remove any unwanted objects or background. The Autopilot editor is easy to use: select scans on the go, erase without exiting the current mode and undo any changes whenever you want.
If you used the automatic base removal (ABR) algorithm when scanning, you can skip this step entirely.
Step 4: Align
In this step, the auto-alignment algorithm will find the optimal position of your raw scans and display preliminary results. Three scenarios are possible, depending on the quality and sufficiency of your raw data:
| | |
| --- | --- |
| Auto-alignment outcome | Result |
| Auto-alignment successful | Proceed to the next step |
| Raw scans need corrections | Switch to manual alignment mode |
| Not enough captured data | Exit autopilot |
Step 5: Calculations
Finally, Artec Studio will start processing the data and will display all intermediate results on your screen. You can cancel the calculation process at any point, if needed.
You can also check and rotate raw scans or fusions at different points during the process:


The model is ready
At this point, you can save your 3D model using File - Export mesh.
If you additionally want to change texture settings (such as brightness or gamma), apply the changes using Workspace - Adjust texture:



Autopilot advantages and usecases
Advantages
Requires no pre-knowledge of the user interface, algorithms, workflow or settings.
Asks easy-to-understand questions about scanned objects.
Guides you through the post processing steps in the optimal order.
Employs your feedback and analyzes the scans to make the most of the data you provide.
Effortlessly creates the best possible 3D model.
Usecases
Beginners who want to get started quickly and easily
Repetitive workflows or multiple objects of the same type
Nearly every kind of project, except the following:


When you need a background for global registration, but want to erase it afterwards.
Intricate objects that require a complicated post processing sequence (non-rigid alignment, selective outlier removal, etc).

Summary
The Autopilot is a completely new workflow that includes alignment and erasing capabilities. It is fast, easy-to-learn and straightforward to use. Autopilot's biggest benefit is that it always applies the best parameters and employs the most suitable algorithms to build the optimal 3D model from your data.
Moreover, Autopilot keeps a full history of operations, maintaining the step-by-step sequence of applied algorithms and allowing you to undo/redo them at will.
Important note: the scanning skills remain essential to success. Even if you capture an object using a completely incorrect scanning path or capture it at an incorrect distance, Autopilot will still create an optimal 3D model of the given data, but it may be inferior to a model based on better data. We therefore encourage you to follow the recommended scanning technique, so that you can obtain the best possible results.
We are here to help! If you have any questions or issues, please do not hesitate to contact our team by emailing support@artec-group.com or by clicking on "Ask Support" button on the upper part of the screen. We will always be happy to assist you and will get back to you as soon as we can.